Joseph M. DePalma, DDS
Dr. Joseph DePalma is committed to providing excellence in dentistry. The doctor uses the latest in dentistry techniques to provide you with a beautiful and healthy smile. Additionally, Dr. DePalma believes strongly in education to prevent oral health problems before they occur, and makes sure to keep patients fully informed about their dental health. Read more about Dr. Joseph DePalma below.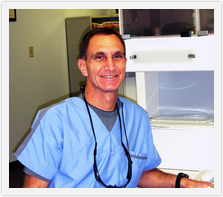 Joseph M. DePalma, D.D.S.
Dr. DePalma was born and raised in Richmond Heights, Ohio, an eastern suburb of Cleveland (yes, he is a Browns fan). He received his undergraduate degree from Bowling Green State University and in 1984 earned his D.D.S. degree from The Ohio State University College of Dentistry. Immediately following graduation, he entered and completed a General Practice Residency at Miami Valley Hospital in Dayton, Ohio.
Dr Joe moved to the Ohio Valley in November of 1986 and established a dental practice in Dillonvale, Ohio in September of 1990. He resides in St. Clairsville with his wife Mary. They have three adult children, Cara, Jenny and Joey and are active members of St. Mary's Church. When he's not in the office, Dr. Joe enjoys running, doing yard work and spending time with his family.